Complementary Load Test
Let us test your battery free of charge


Free
Battery Replacement
Gel batteries and hybrids higher
Starting at
$184.95
Have Your Car Battery Checked Before It's Too Late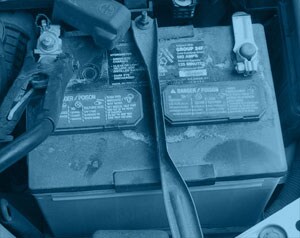 There are a few things to look for when determining if you need to replace your car battery or not. When you notice any of signs or symptoms of battery failure or degraded performance in your Hyundai vehicle, it is time you get the battery tested, and, if needed, replacing it.
The length of time your car battery will last depends on a few things, like how heavily the battery gets used, the quality of your current battery, the weather conditions you use it in, and the type of vehicle you drive. If your car battery is over 5 years old (the average auto car battery around Denville lasts about 4 years), you should bring your Hyundai into the Towne Hyundai Service Center in Denville to have it tested. Our car battery service technicians will perform a test that will tell you how strong the battery is and approximately how much more life you can expect to get out of it.
Unsure of whether or not you could use a new car battery? Stop by Towne Hyundai Service Center in Denville and have it tested. We are conventiently located in Denville near Hackettstown, Dover, Parsippany, and Randolph. Our service technicians will help you decide if it's time to change your car battery or not.
Signs Your Battery Needs Service
There are a few indications that your battery might be nearing the end of its life. Keeping it healthy is essential to the performance of your vehicle so you don't find yourself on the side of the road. Pay attention for the following signs:
Dim Lights or Electronics Not Functioning Properly
If your electronics aren't functioning the way they used to, or your headlights are dimmer than usual, they may not be getting the power they need.
Difficulty Starting Your Engine
Difficulty starting your engine is another sign your battery is about to die. If your vehicle won't start unless you give it gas, or has trouble starting after sitting overnight, the blame might rest on your battery.
Corroded Connectors on Your Vehicle's Battery
Corroded connectors are a sign your battery is nearing the end of its life.
Benefits of Having a Towne Hyundai Service Technician Replace Your Car Battery
There are other car issues that will show the same signs and symptoms of a weak car battery. Sometimes other items like loose or corroded wires or connections, a loose alternator belt, a faulty alternator or bad starter will produce the same symptoms as a weak or dead battery, when that isn't the case. Replacing your battery without checking these other conditions could result in the problem persisting and prematurely draining your new battery.
Bringing your Hyundai to a battery service technician at our award-winning service center in Denville means you will be able to tell if your battery is weak, or if the problem is an extra drain on the electrical system being caused by a bad component. This can save you from replacing your car battery unnecessarily.
Why You Should Replace a Weak Battery
Driving with a weak car battery can prove to be detrimental. When your car battery is weak, it could fail at any time, potentially leaving you stranded. In fact, a dead car battery is the most common reason for calling emergency road service during colder or winter months in New Jersey. If you suspect your battery needs to be replaced, stop by our service center in Denville!
Hours
Monday

7:00AM - 6:00PM

Tuesday

7:00AM - 6:00PM

Wednesday

7:00AM - 6:00PM

Thursday

7:00AM - 6:00PM

Friday

7:00AM - 6:00PM

Saturday

8:00AM - 4:00PM

Sunday

Closed